Linguistik Meetup After-Action Report
Alongside the upcoming StuTS, we organised this year's Linguistik Meetup Berlin-Brandenburg as a purely physical satellite event. This blogpost gives you some impressions of how the Meetup went and the feedback we got from the participants. Take it as an appetiser to StuTS 68 where we hope to be great hosts for you all.
As stated on our homepage, we had decided to make the 68th StuTS a fully virtual conference. This would provide a safe environment during the ongoing pandemic and make the event accessible to the maximum number of people from anywhere on the planet, something that a purely physical conference would have had trouble with.
However, one of the best features of a typical StuTS is the great social scene where young linguists can meet their peers from all over the world. We felt the need to provide an outlet for that, which sparked the idea to host two conferences instead of just one, both organised by the same team. And so came about…
Linguistics Camp Michendorf
Typically, Linguistik Meetup is a single-day event for students of linguistics from the area of Berlin-Brandenburg who engage in their topics of interest beyond the university curriculum. This year it took place over three days, between September 17-19 at the Haus St. Georg campground in Michendorf, south of Potsdam.
Participants were able to hold and attend interactive talks and workshops on their topics of interest while carefully observing our code of conduct including the current COVID-19 regulations. All talks and other activities were held outdoors, and we made sure there was clean sanitary infrastructure and enough disinfectant for everyone. Mask wearing was also encouraged, and participants kept their 1.5 m distance where possible.
We wanted the Meetup to have a more relaxed atmosphere than most other single-day students' conferences, providing our participants with homemade meals prepared on-site and hosting social activities such as a pub quiz as well as a pre-conference energiser to help break the ice. The communal evenings around the campfire also deserve a special mention.
Inclusiveness played a major role to us, far beyond the boundaries of academic backgrounds: while most attendees did indeed come from Berlin or Brandenburg, we were happy to see participants from Kiel and Leipzig - and one even came from the Netherlands! We are proud to see the event hitherto known as Linguistik Meetup Berlin-Brandenburg outgrowing its regional postfix.
A picture is worth a thousand words, so here is what the Meetup actually looked like: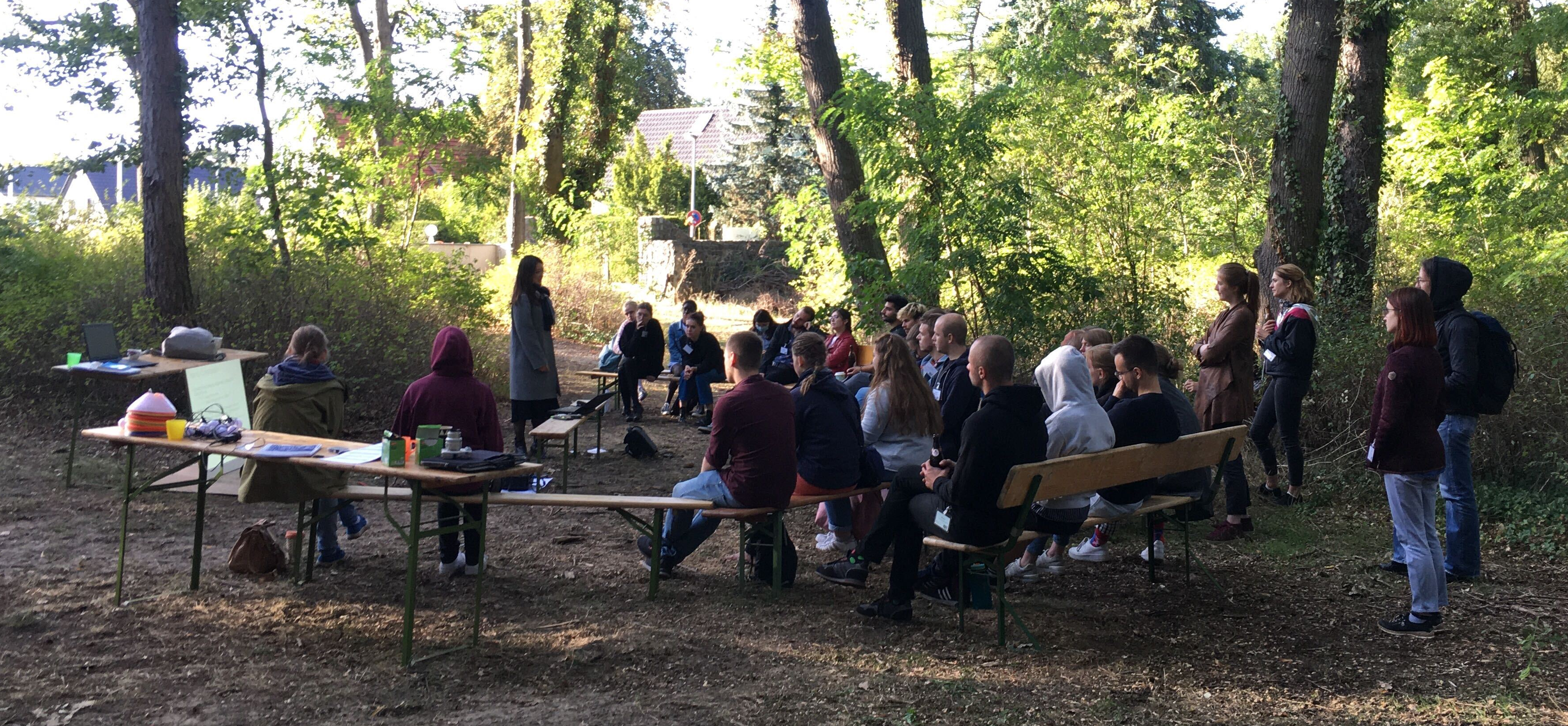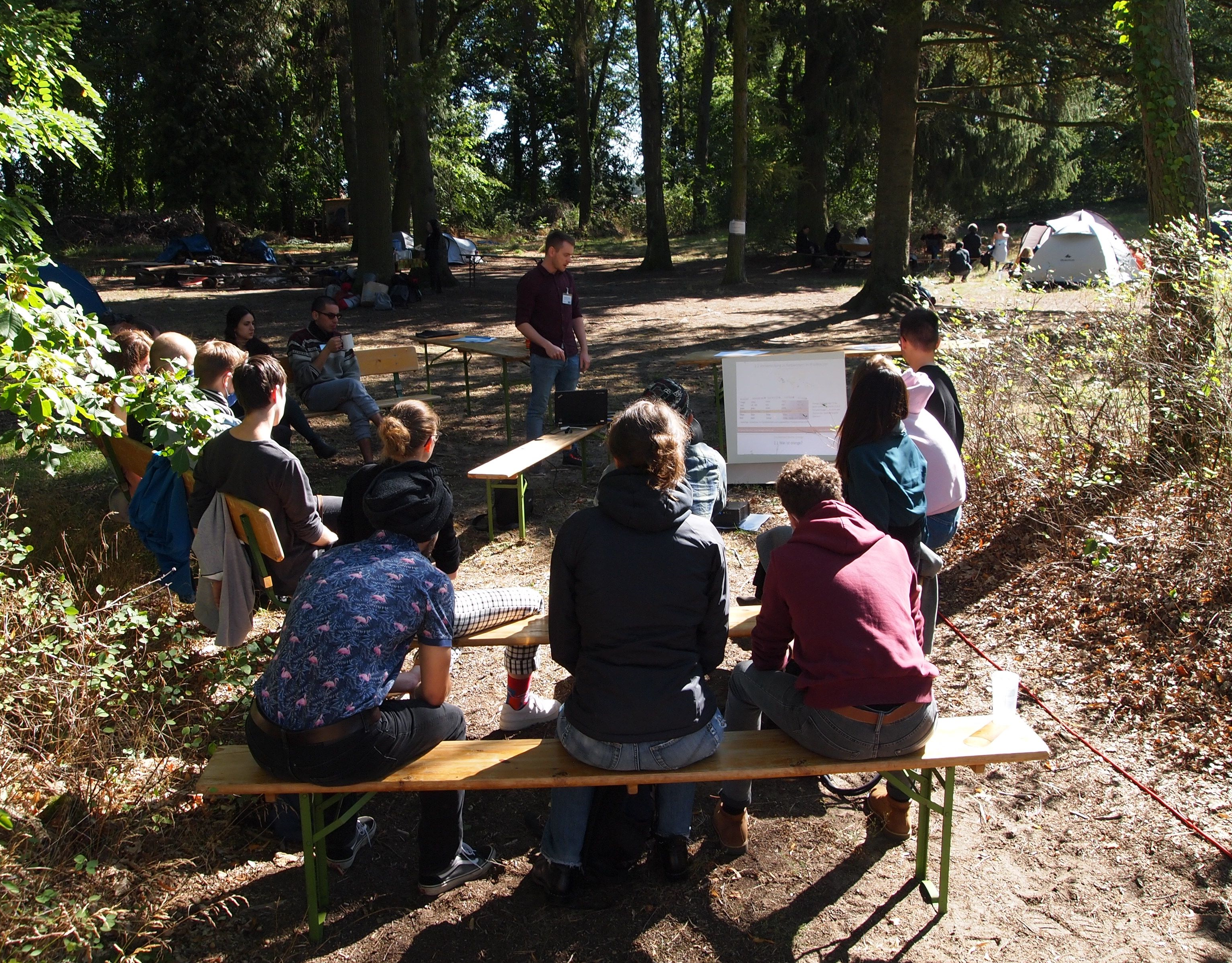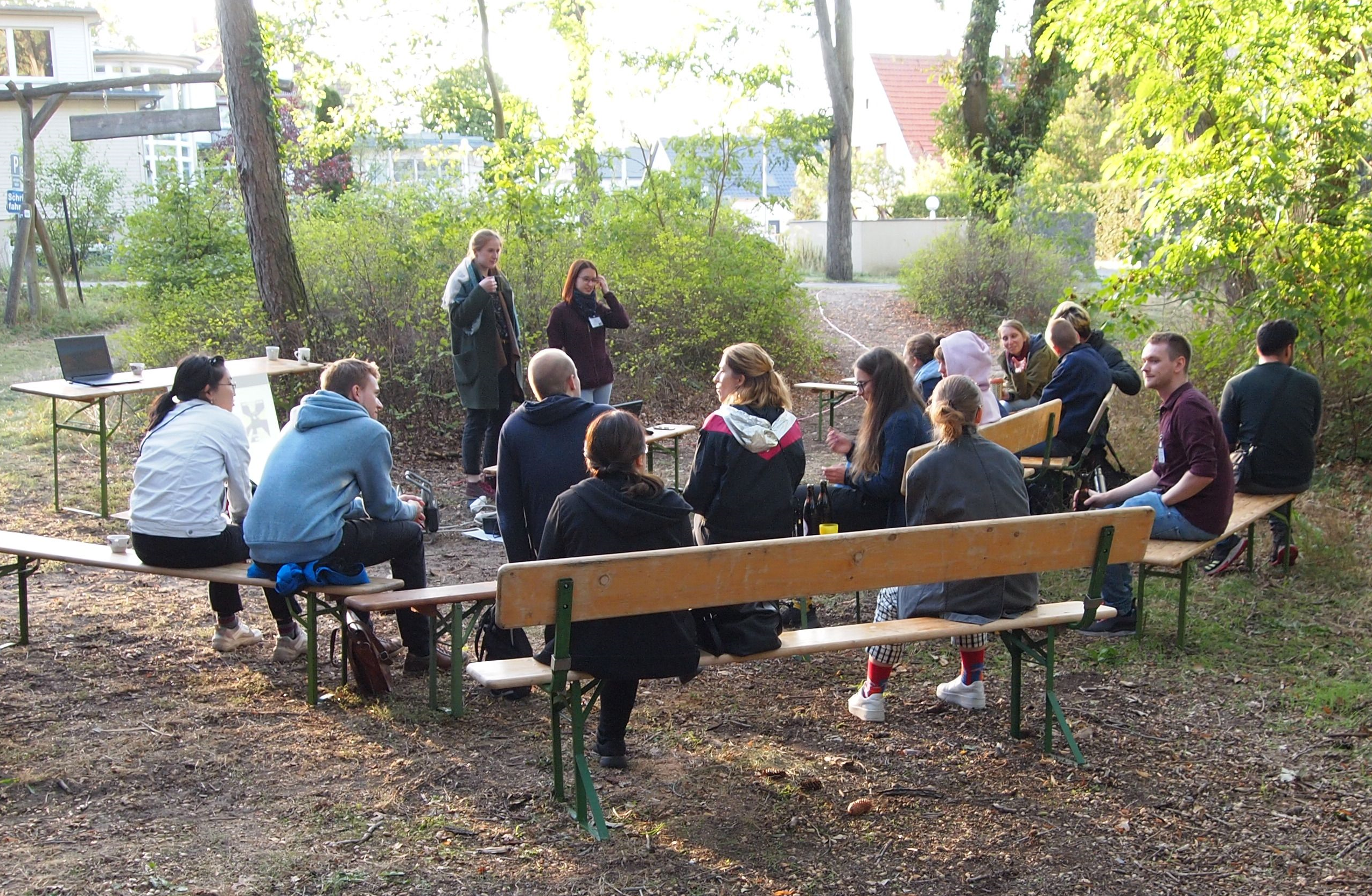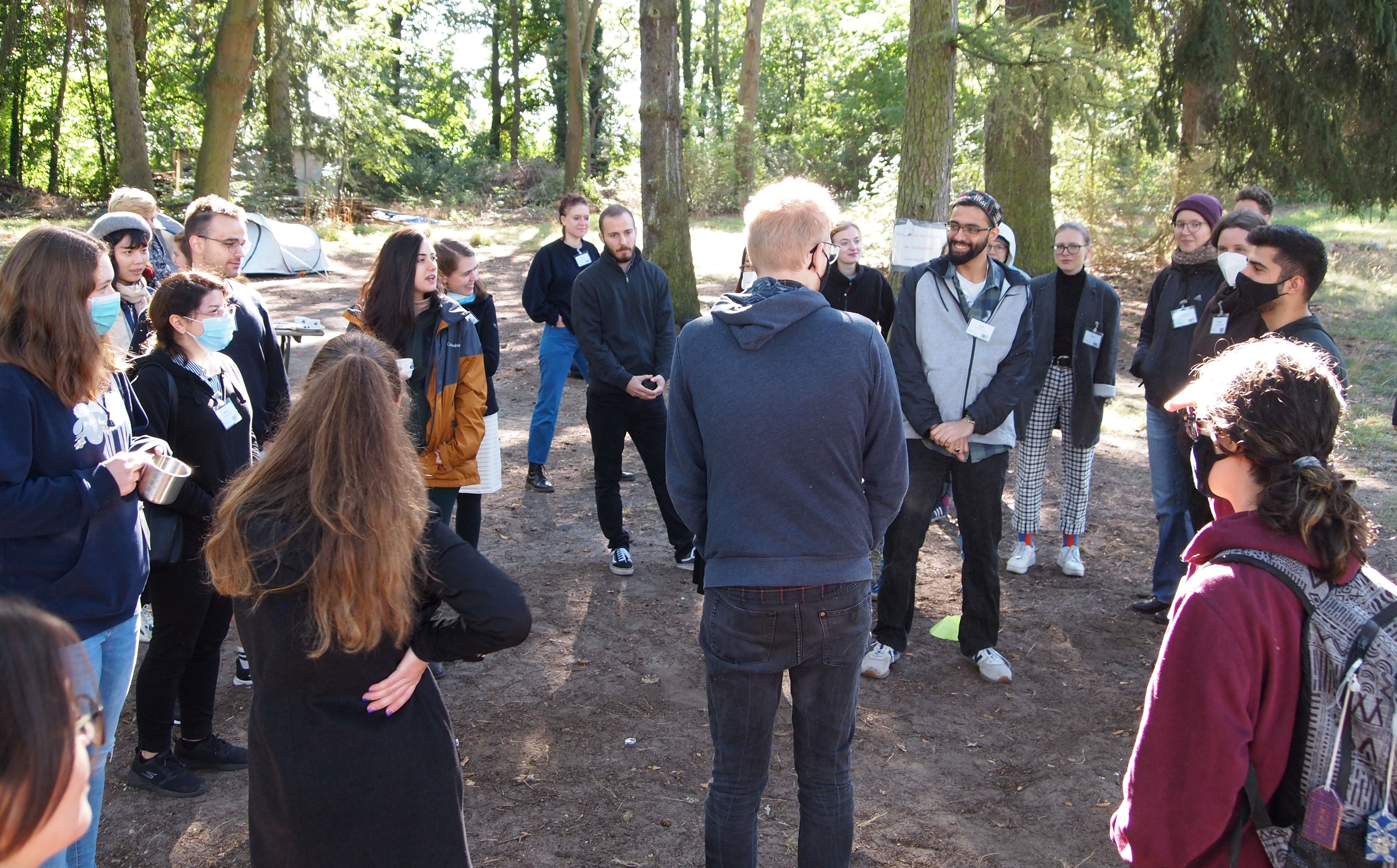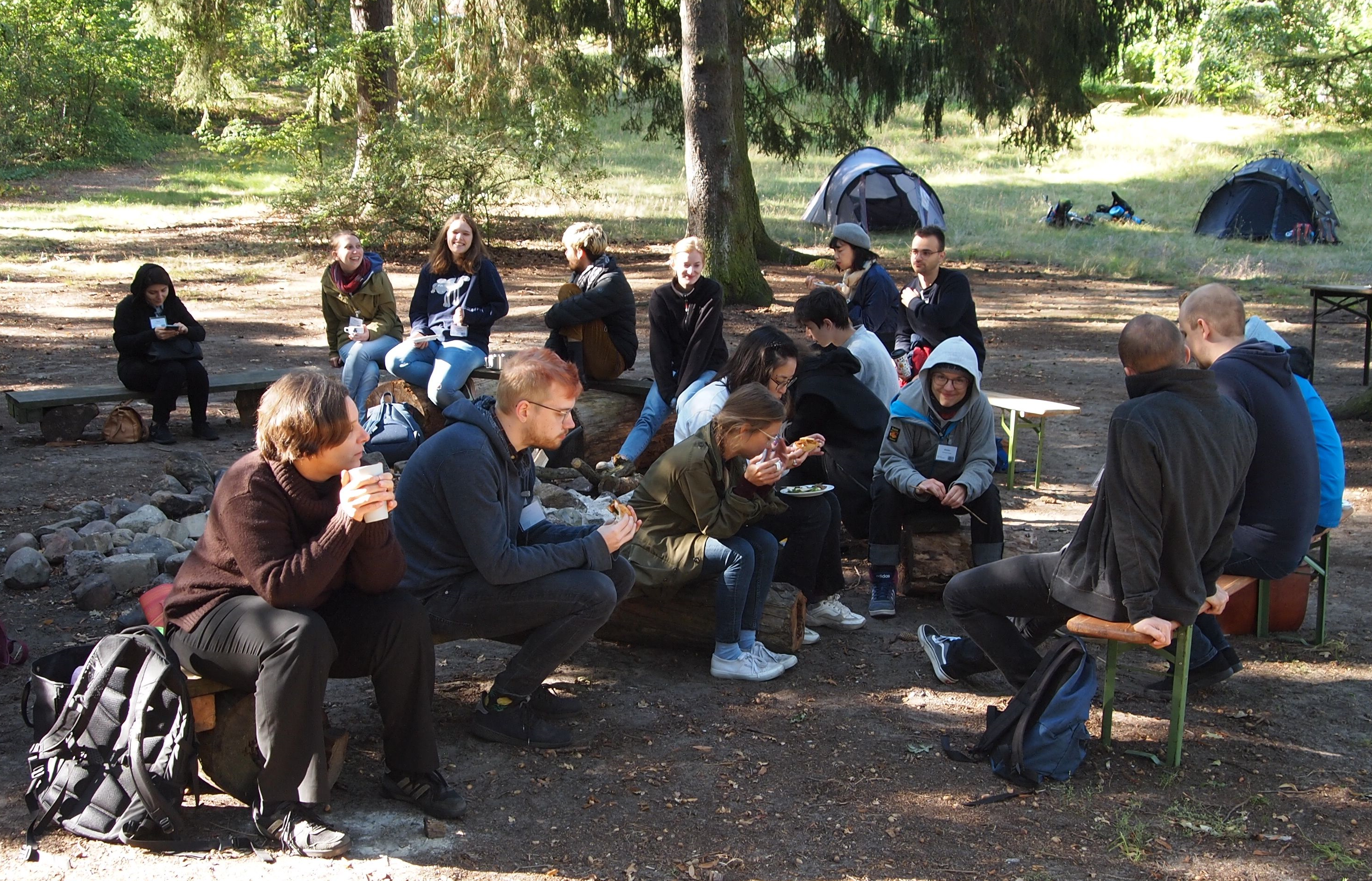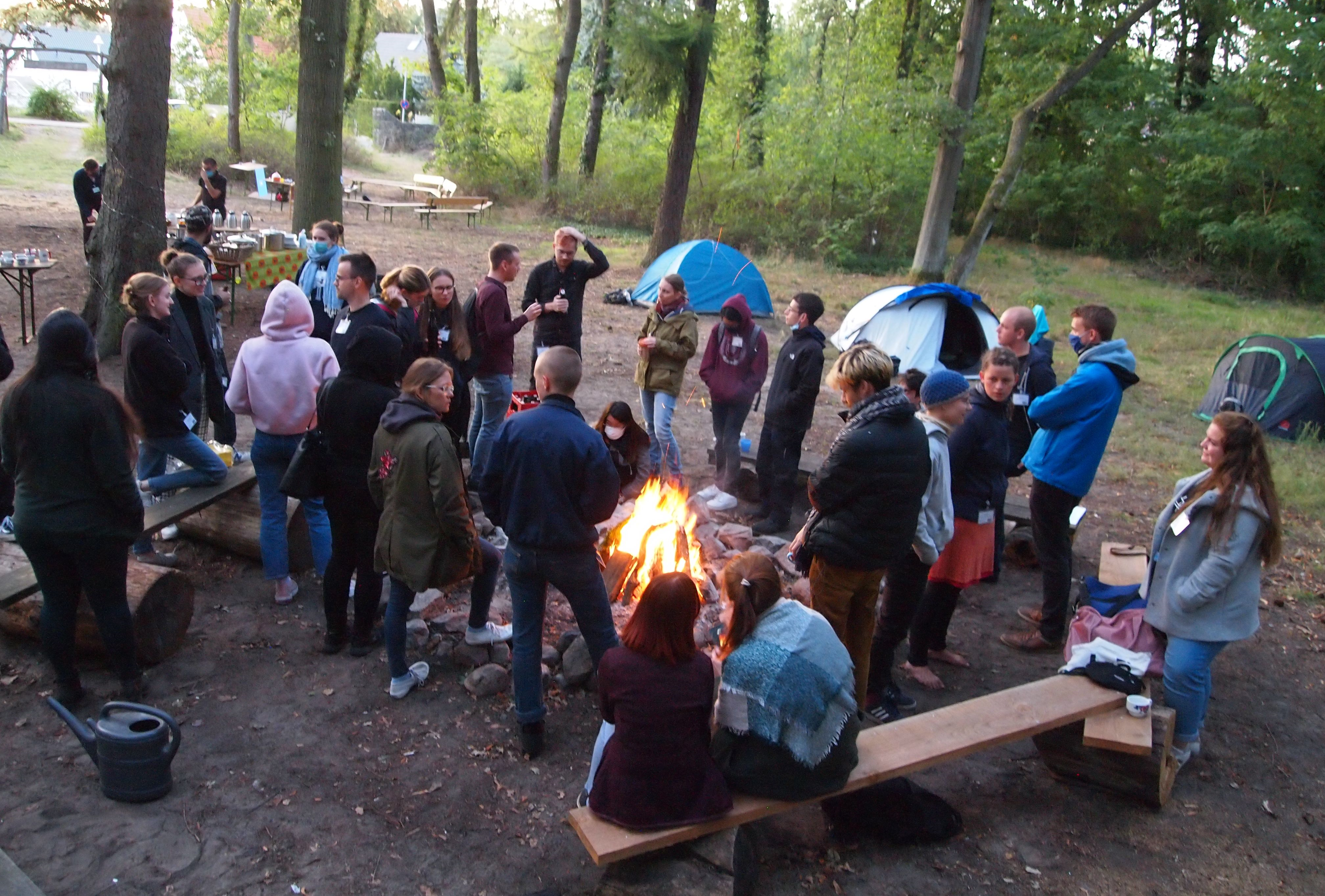 Participant Feedback
Alright, pictures are nice, but as language scientists we obviously prefer plots. We asked the Meetup participants to fill out a feedback form and 18 of them did so. So, here are the results with some comments.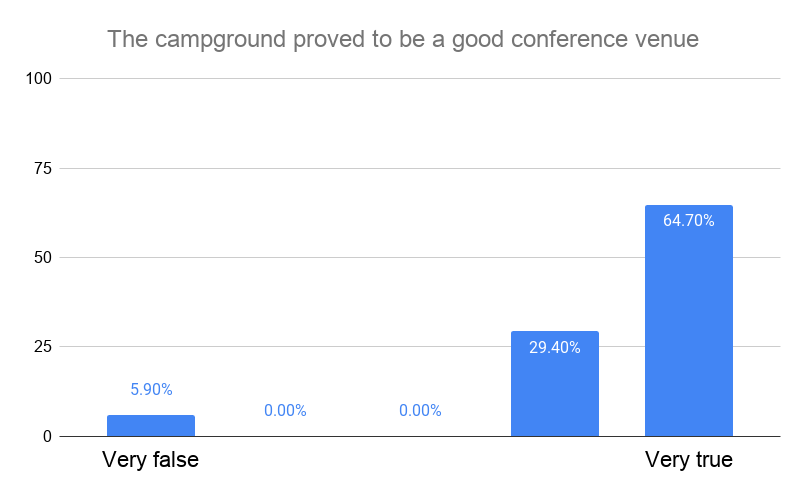 It looks like most people liked the campground as a conference venue, despite the nightly cold and the partial lack of conventional infrastructure. Still, we tried to work around those and make a predominantly outdoor setting suitable for everyone expecting a more professional environment. To our knowledge, no one has ever tried to host a linguistics conference at a campground before, so we are very pleased with this result.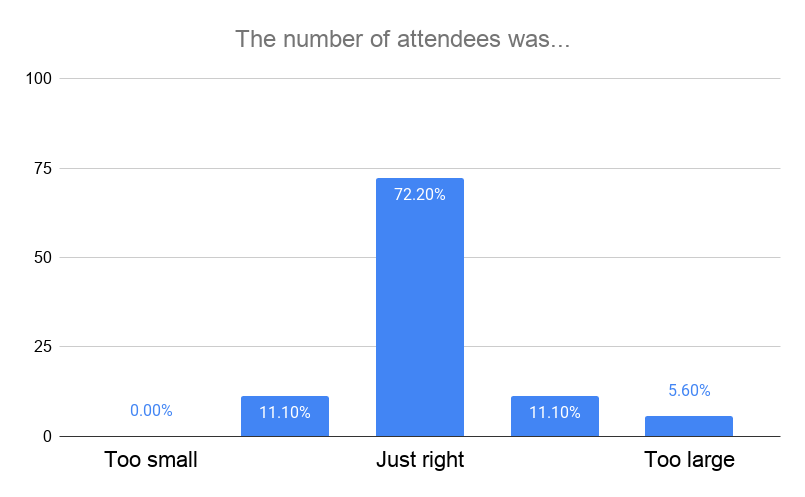 This was a point of contention. On the one hand, we wanted to make the conference as safe as possible with regards to the current pandemic situation, making sure that we do not get too many participants and especially do not motivate anyone to take great risks by travelling from far away. On the other hand, inclusivity was key to us. The final number clocked in at 47 people compared to the 80 allowed at the campground under normal circumstances, providing enough space for everyone to be and feel safe. It seems like most participants felt comfortable with the number of others around them, while a few also think that there were too many people.
This one mainly goes to other conference organisers who are wondering if they should put their PR energy into emails or social media (we also had the "other" option but no one used it). For a conference like ours, emails definitely seem like the way to go. Essentially, the green and yellow pieces of the pie also boil down to emails. That's why we're starting the third wave of emails for StuTS next week.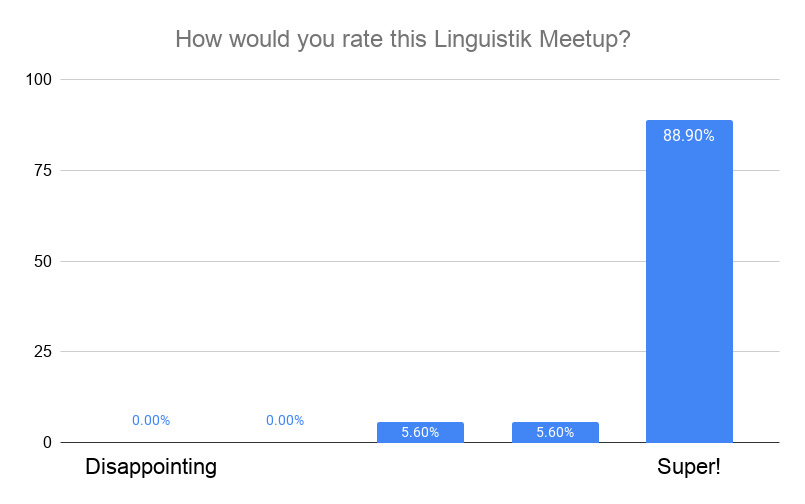 This question was really just to see what the general tendency is, and it's great that no one found it disappointing. In fact, we are glad that most attendees felt so positively about the whole experience, since we took the risky decision to organise this year's Meetup so much differently from its previous iterations. We are also happy about the feedback that does not say "Super" because it makes the results realistic and valid. We'll do our best to make the StuTS in November "Super!" for everyone too!
More to come. Stay tuned!
Any questions and/or comments about the 7. Linguistik Meetup Berlin-Bradenburg are super welcome; either send them to our email or contact one of our social media accounts.